08 January 2022
Energy market blows up
Creating double digit inflation in house prices doesn't come cheap. One recent big expense has been the collapse of the UK energy market along with the fallout.
Back when the Covid-19 pandemic hit, rather than allowing the money supply to contract whilst the economy was slowing down, the BOE, with the help of the UK government, decided to ramp up the money supply by encouraging people to pay even more for houses than they were already doing. This created immediate house price inflation and guaranteed future price inflation of everything else.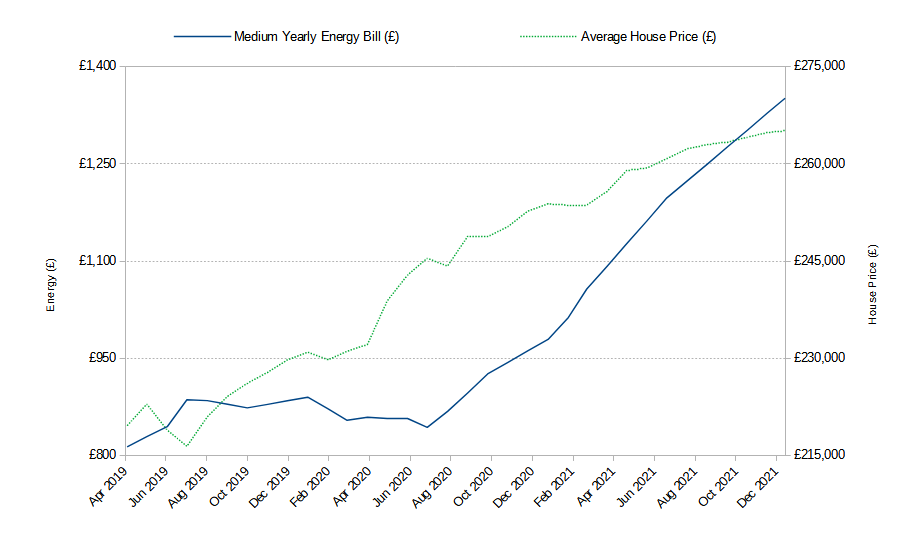 Medium yearly energy prices and average house prices April 2019 - December 2021. Data courtesy of an energy user switched multiple times by Ofgem and the Nationwide Building Society.
The rapid debasing of the currency by the Bank of England and UK government, coupled with a reduction in supply due to the global economy also slowing down, meant energy prices started to soar.
This inflation bankrupted several UK domestic energy suppliers because they had many customers on fixed rate tariffs, and the UK government had price controls in place meaning energy companies were unable to raise variable rate tariffs enough to counteract losses incurred due to the Bank of England's inflation.
This is just a teaser, however, of what is to come. When the inflation tsunami hits this year, energy prices are expected to go even higher, and the Bank of England will have made energy bills unaffordable as well as housing, impoverishing even more good people of the United Kingdom.
Other News